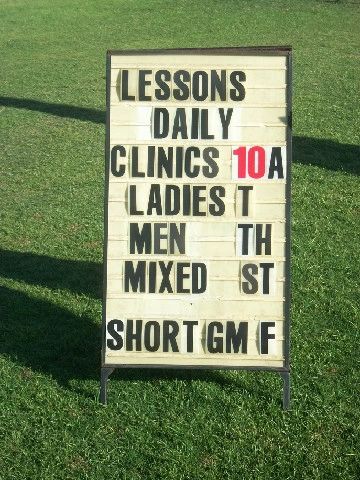 Golf Lessons available from PGA trained Golf Professional
Scott Moser
* 1/2 hour - $55 plus balls
* 1 hour - $90 plus balls
* Playing Lesson - 9 holes $120


Clinics:
Tuesday - Ladies
Thursday - Men
Saturday - Mixed
$10/per student plus balls-All Clinics 10 am
** In season additional clinics may be offered at 9am

Specialty Classes: Offered Seasonally
Short Game- Chipping & Pitching
Trouble Shots
Sand Class-Greenside and Fairway Bunkers
Putting Class
Specialty Classes: $30/per student (balls included)
Limit 4 Students to Class/1 Hour
MUST SIGN-UP IN SHOP

Variety of Lesson Packages Available
Click "Lesson Specials" Tab for Details.

GIFT CERTIFICATES AVAILABLE!

OUR CLINICS OR YOUR CLINICS

Coral Isle Golf Center offers weekly clinics for ladies, men and ladies and men "mixed." Generally, four to five
golfers attend each session. However, as the season progresses, attendance picks up to eight (8) to ten (10)
golfers per session. We have instructors ready to teach but with that many students, it can become a circus.
We have found the clinic's popularity actually scares golfers off.

Sooo!!! If you would like to participate on your own clinic, please leave your name, phone number and
day you would like to participate with the golf shop staff. You and your friends can form your own group.
Or, we can place you in a group that is comfortable and convenient for you.

Where the weekly clinics are a "just show up" event, we ask your private clinic to commit to a minimum of four (4)
clinics. Class size will be limited to four (4) golfers. Participants will be asked to pay in advance; $100 for four (4)
clinics, balls included. Absences will be dealt with in a fair manner. Clinic topics can be chosen by the group or our
instructor can assist in the class curriculum.
Take advantage of these programs.